Founding and the first few years
In 1995, following on from the exhibition organized in Maillé to mark the fiftieth anniversary, a group of survivors decided to form an association.
Initially bringing together the only survivors, this association was the first opportunity for them to speak out. Alongside the municipality, its members also advocated for the massacre's recognition.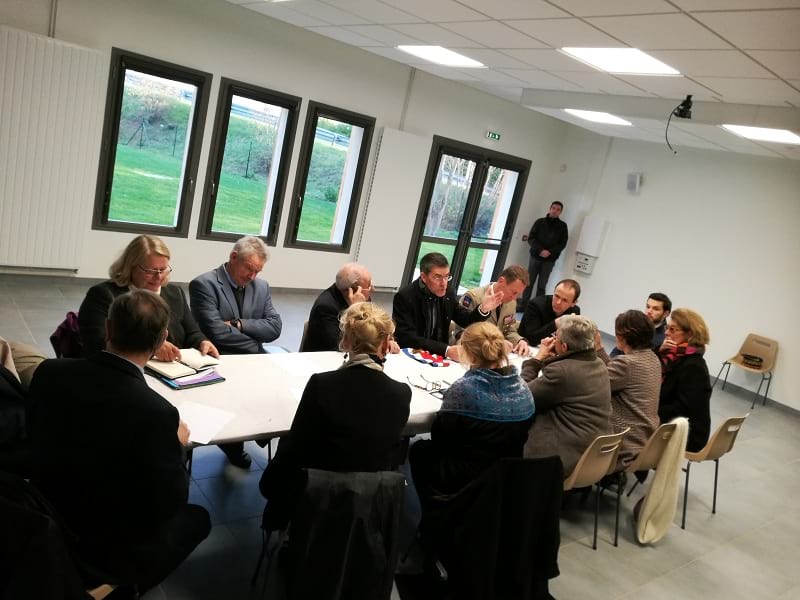 The association, a key stakeholder in the founding and running of the Maison du Souvenir
Right from the early 2000s, the association was closely involved in the plans to set up the Maison du Souvenir. Together with the municipality, it met with the partners eager to help finance or run the site.
As soon as it opened, the survivors took it in turns to man the reception desk and share their testimony with schoolchildren. In this way, from 2006 until 2018, every class welcomed at the Maison du Souvenir was able to talk with a survivor of the tragedy.
Since 2008, the association Pour le Souvenir de Maillé (For the Memory of Maillé) has also played an instrumental role in running this memorial through the employment of part of its staff, who are hired out to the Maison du Souvenir. This is managed by the municipality of Maillé.
The association today
In 2019, after several years of work and discussions with the local and central authorities, the association fully took over management of the Maison du Souvenir. The association has a Board of Trustees elected from among its members. The Director of the Maison du Souvenir and Mayor of Maillé sit on this Board in an advisory capacity.
A steering committee has been set up to assist the association with delivering the Maison du Souvenir's educational, scientific and civic remit. This brings together the financial backers and qualified (expert) members (representatives of National Education, veterans, tourism and culture).