Group visits
To enable us to welcome you in the very best conditions, please note the following indications:
Pre-booked group visits can be arranged from 08.00 in the morning.
Before the visit, it is important that schoolchildren have some kind of idea of the historical context in which the Maillé massacre happened. It is therefore recommended that their teachers will already have spent some time telling them about the Occupation and Resistance as part of their syllabus.
A visit to the Maison du Souvenir requires that the school group behave respectfully towards each other, to our staff and to any other visitors they might come across while here. We remind you that, even though members of our team will be available throughout your visit, the schoolchildren remain under the responsibility and authority of their teachers.
To enable school groups to make the most of their visit, we strongly recommend that they be given a questionnaire that their teachers will have prepared beforehand, and that each child has a pencil.
The visitor drop-off and pick-up area is located in front of the Maison du Souvenir, by the car park. Coaches can then go and park either alongside the cemetery or in the community hall car park.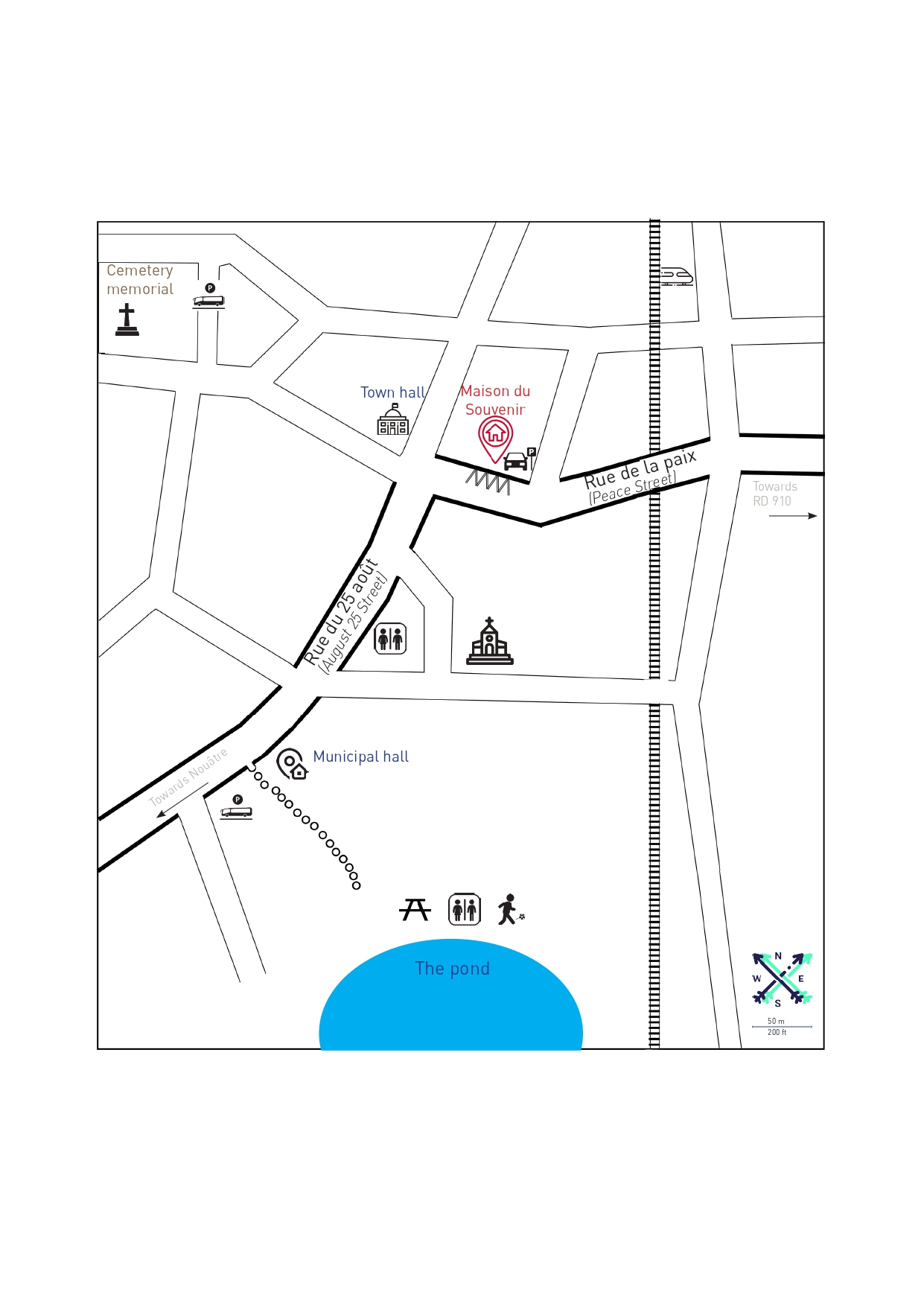 A municipal hall near the Maison du Souvenir can be hired for lunch use. There is also a nearby picnic area.
Municipal hall hire rates:
small (50 sq.m.): €51.00 / €60.00 (depending on the season)
large (200 sq.m.): €96.50 / €110.00 (depending on the season)
*2023 rates, subject to revision on January 1, 2024.
Financial assistance available
Regional assistance
Secondary schools in the département can apply to the Indre-et-Loire Département-level Council for reimbursement of the travel expenses for one annual trip to the Maison du Souvenir.
Other forms of financial support for the visit are also available via veteran associations:
Le Souvenir français
Le Souvenir français supports remembrance-related outings organized by teachers as part of school curricula. Any school in the Indre-et-Loire département, whether public or private, primary, secondary or vocational, can benefit from funding through Le Souvenir français for a remembrance-related school trip, particularly to Maillé.
Please send your application as far in advance as possible (at least one month before the planned trip date) to :
La délégation générale 37 – 329 quai des Bateliers 37230 Fondettes FRANCE – +33 (0)2 47 49 70 10 – b.h.a.vialatte@free.fr
L'Union nationale des combattants
The Indre-et-Loire UNC contributes to the duty of remembrance and the civic training of younger generations by supporting plans to visit the Maison du Souvenir drawn up by schools in the Indre-et-Loire municipalities where there is a UNC branch. Headteachers must send their applications as far in advance as possible to the President of the local branch, who will then contact the UNC 37's humanitarian and social committee. To find out who the President of the Indre-et-Loire UNC branch is for their municipality, schools can contact their town hall.
La Fédération nationale André Maginot
The FNAM supports three remembrance projects per year, per département (one primary class, one secondary class and one high school class). These projects can involve several visits to remembrance sites as well as a hands-on activity completed by the schoolchildren, which will be entered for the Remembrance and Civic-mindedness Prize organized by the National Federation.
Contact : M. Yvon ROUANET – 12 rue du Clos-du-Houx 37270 Montlouis-sur-Loire – +33 (0)2 47 45 18 14