Our publications and DVDs on the massacre of Maillé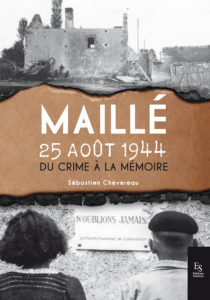 25 août 1944, Maillé… Du crime à la mémoire, Sébastien Chevereau, Éditions Anovi, new 2019 edition, 224 pages.
Drawing from testimonies and archive material, the author begins by describing the peaceful village life before the war and during the Occupation, before giving us a detailed account of the horrors of August 25, 1944: how the day unfolded, who was responsible, without forgetting the aftermath of the crime: the mourning, the reconstruction and then the commemorations. The first book by a historian on the Maillé massacre, this is an invaluable source for studying more about the Occupation and Germany's repressive practices in France.
€22.00
Maillé martyr, Abbé André Payon, Édition Maison du Souvenir, 2007, 96 pages.
Written by Abbé Payon, who was the Maillé parish vicar at the time, this book goes back over the tragic events of August 25, 1944. First released back in February 1945, it is based on the observations that the vicar himself made as well as survivors' testimonies. The first ever publication to address the Maillé massacre, this document yields insight into how this shocking day unfolded.
€15.00
Nous étions une famille heureuse, Serge Martin, interviews with Romain Taillefait, Éditions Lamarque, 2019, 143 pages.
From 2015 to 2017, over a series of recording sessions, Serge Martin shared his testimony with a view to turning it into a book weaving together the history of the village of Maillé with more personal anecdotes and a narrative of his experience. After a few chapters devoted to his memories of time under the Occupation, he broaches what happened on August 25,1944.
€15.00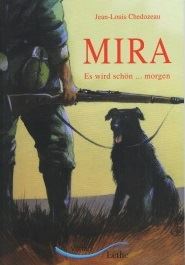 Mira, il fera beau… demain, Jean-Louis Chédozeau, Éditions Anovi, 2009, 64 pages.
Jean-Louis Chédozeau, the author of this short story, is a survivor. He narrates the tragic events of August 25, 1944 as seen through the naive and innocent eyes of his dog Mira, who watches on, helpless, as acts of horrific violence are committed – from which she and her young master only escape by some miracle. Sounding a warning for new generations, his story is thought-provoking in terms of the threat posed by extreme ideas.
€7.00
Maillé, j'avais 5 ans, Jean Baillargeat, Éditions Alan Sutton, 2009, 160 pages.
Jean Baillargeat is one of Maillé's survivors. His testimony is based on an exchange of letters between his mother and grandmother from the days leading up to and immediately following the massacre. In addition to sharing his childhood memories, the author takes a critical view of humankind and the behavior it is capable of in wartime.
€12.00
Le Massacre de Maillé, Romain Taillefait, éditions Lamarque, 2021, 32 pages.
This guide is a short summary telling us first about the village before the war and during the Occupation, then about the fateful day of August 25, 1944. Over and above narrating the events, the author reframes the tragedy within its wider context and provides thoughts on how a memory is constructed.
€6.00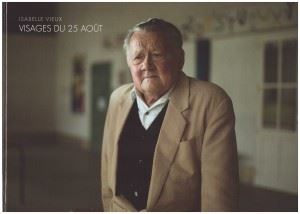 Visages du 25 août, Isabelle Vieux, Éditions Brumaire-Anovi / Maison du Souvenir, 2016, 128 pages.
Photographs and testimonies of 11 survivors of the Maillé massacre who met photographer Isabelle Vieux. Exhibition catalogue with the addition of photos from the Franco-German exchange and August 25 commemorations.
€16.00
Maillé, la mémoire oubliée, Clotilde Vandendorpe, Éditions Transmettre, 2019.
In the early hours of August 25, 1944, an SS troop surrounded Maillé, a little rural village in the Indre-et-Loire département, beside the no.10 highway, not far from Tours. The troop's aim was clear: to wipe out the entire population. The killing rampage would last three hours! The Germany army left behind it 124 victims and a burning village, almost completely destroyed. In France, Maillé represents the second bloodiest massacre of a civilian population during World War II, after the more widely known massacre of Oradour-sur-Glane. This book asks the question that we should all be asking: how is it that these tragic events of August 25, 1944 went publicly unacknowledged for nearly half a century? To answer, Clotilde Vandendorpe draws on an array of legal and political, historical and remembrance-related testimonies and sources. After giving a recap of the tragedy, she goes into the reasons why this event was provisionally "erased" from the collective memory, whereas the village of Oradour-sur-Glane had always held a special place in the collective memory from the outset.
€24.00
Maillé, le massacre oublié, Marie-Françoise Gaucher – DVD – Édition TGA PRODUCTION, 2004, DVD, 25 min.
Produced in 2004, this film is the first documentary to address Maillé's history. It pieces back the puzzle of the massacre through the varied testimonies of survivors who had hitherto never spoken of the tragedy. Gripping and moving, this documentary sheds light on the tragic events that unfolded on August 25, 1944
€15.30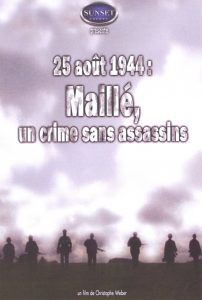 Maillé, un crime sans assassins, Christophe Weber – DVD – Édition Sunset Presse, 2011, DVD, 85 min + 25 min.
DVD 1: this documentary, aired on France télévisions, reviews the historical research and German criminal inquest in progress. The fruit of several years' worth of research, this film endeavors to answer two fundamental questions concerning the Maillé massacre: who were the perpetrators of this crime and why?
DVD 2 : the making-of Christophe Weber's documentary.
€25.50
L'autre 25 août, Josiane Maisse – DVD – Éditions Les Deux Mémoires, 2004, DVD, 90 min.
The 62 people who share their testimony in this film do so with modesty. Whether direct or indirect witnesses of the tragedy, they all evoke what happened on August 25, 1944, the scars, the reconstruction and the late revelation of the village's history. Produced in 2004, this particularly moving film is a unique resource aimed not only at preserving the stories of the last witnesses but also at raising the profile of Maille's tragic history.
€18.40
De Santa Barbara à Maillé, les Hale… 1886-1958, Édition Maison du Souvenir, 2008, 24 pages.
In 2008, to mark the fiftieth anniversary of Mr and Mrs Hales, the municipality of Maillé, Pour le Souvenir de Maillé association and Maison du Souvenir decided to pay tribute to this couple of patrons by curating an exhibition dedicated to their exceptional story. The catalogue for this exhibition describes how they helped soldiers wounded in World War I, and how they lent their assistance to the village of Maillé.
€3.50
Our publications on the Resistance in Indre-et-Loire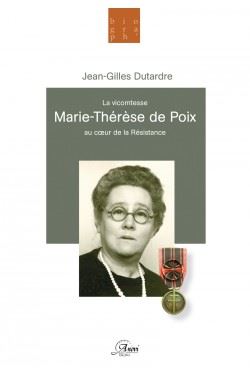 La vicomtesse Marie-Thérèse de Poix, co-authored, Éditions Anovi, 2015, 184 pages.
A Resistance fighter from 1940 to 1944, who was deported to Ravensbrück, Viscountess de Poix was a prominent figure in Touraine during World War II. This book is the first biography on this generous-hearted woman who worked in the shadows.
€19.00
L'abbé Henri Péan, Jean-Gilles Dutardre, Éditions Anovi, 2011, 144 pages.
Vicar of Maillé from 1930, Abbé Henri Péan was the soul of the Resistance in southern Touraine during the Occupation. He went to great lengths to help more than 2,000 fugitives cross the demarcation line and also formed an intelligence and action network. Arrested by the Gestapo in February 1944, he died under torture.
€15.00
1914-1918, Des deux côtés, Armand, Wilhelm et les autres, co-authored, Éditions Anovi, 2014, 300 pages.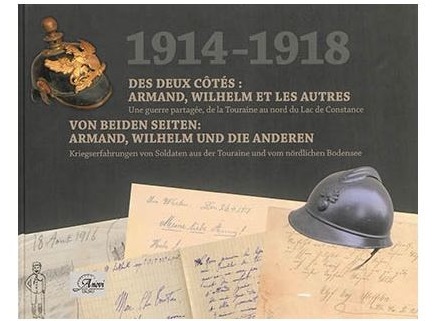 What do French people know of the lives of German soldiers and their families? What do German people know of the lives of French soldiers? This exhibition catalogue charts the fate of six French and German soldiers whose correspondence has come down to us. Based on their day-to-day concerns, it pays tribute to all those who fought during World War I.
€21.00
Les Goupilles, une famille tourangelle dans la Résistance, Jean-Gilles Dutardre, Éditions Sutton, 2019, 250 pages.
From 1940 to 1944, along with the vicar Abbé Péan and Viscountess de Poix, André Goupille was one of the three protagonists of the Resistance movement in southern Touraine. This veterinarian from Descartes (formerly La Haye-Descartes, in the Indre-et-Loire département) belonged to the generation which, having lived through World War I, could not tolerate the occupying forces' presence. He did not serve the cause alone, but with the invaluable, discreet help of his family. From secret crossings of the demarcation line to deportation, this biography of a family supporting the resistance reveals a little-known side of the fight which some French citizens waged from the signing of the Armistice in June 1940. And beyond the specific case of the Goupille family, the broader history of South Touraine during the occupation is portrayed, weaving in the efforts, hopes and repression along the way.
…
Issues and special editions of the ÉRIL association (which stands for Studies on the Resistance in Indre-et-Loire):
A magazine on the Resistance in Touraine, this is aimed at presenting for the benefit of all generations a history which, whilst seeming quite recent and known, is becoming increasingly less so owing to the gradual disappearance of witnesses from this period. The various issues can be consulted by clicking on this link.
From €17.00 to 20.00
Our young readers' collection
Éditions Quelle histoire !
La Seconde Guerre mondiale, co-authored, 2015, 34 pages.
From September 1, 1939 to September 2, 1945, the whole planet was set ablaze – at sea, on land, in the air – making this conflict the furthest-reaching that humanity has thus far ever known. Immerse yourself in the history of World War II, from the rise of Nazism in Germany to the Battle of Stalingrad, with all the raging battles of the Pacific in between.
€5.00
Le débarquement, 6 juin 1944, co-authored, 2014, 40 pages
This book goes back over the key stages of this defining event for World War II. Learn how the parachutists jumped at night, why the D-Day Landings happened and about the meticulous planning that went into this masterfully orchestrated operation.
€5.00
Franz, soldat allemand en 14-18, co-authored, 2014, 40 pages
In 1914, Franz was newly graduated and found a job working in a factory making aircraft. Germany's orders for him, along with many other men, to go and fight in the war that had just broken out, put an abrupt stop to this activity. He wrote letters to his mother, the patriotic pride he initially shared with her soon turning into a profound anxiety over his experience of the war.
€5.00
Lucien, soldat français en 14-18, co-authored, 2014, 40 pages
In August 1914, Lucien was selling newspapers in Paris, but it wouldn't be long before he would be called up to fight at the front with the French Army. World War I had broken out across Europe. Lucien wrote several moving letters to his wife, which started out bursting with enthusiasm but soon gave way to weariness in which his horrors of the war came across all too poignantly.
€5.00
Editions la Nouvelle République
Du débarquement à la Libération, raconté aux plus jeunes, 2019, 84 pages.
This magazine whisks us, image by image, back to the timeline of these events: from the planning leading up to D-Day to the day itself and how it unfolded, hour by hour.
€4.90
Other publications or DVDs outside the collection
Postcards :
€0.80 each, or 3 for €2.10
Parce que j'étais peintre, l'art rescapé des camps nazis, Christophe Cognet – DVD – Éditions Jour 2 Fête, 2004, 100 min.
A brand-new study into the artworks produced in secret in the Nazi camps and an exploration of the notion of work and beauty.
€22.00
20 ans de reconstruction en Touraine, Elke Mittmann, éditions Hyx, Maison de l'Architecture du Centre-Val de Loire, 2016, 80 pages.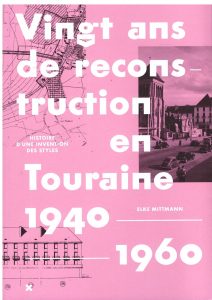 What is referred to as the "reconstruction" actually covers two separate periods: the official policies of the Vichy regime between 1940 and 1944 and those led, after the Liberation, by the French Ministry for Reconstruction and Urban Planning (MRU), which would continue in Touraine up until the early 1960s.
This book homes in on three of the towns that were hardest-hit by the devastating destruction of World War II and the massacres committed by the German army in the Indre-et-Loire département: Tours, Saint-Pierre-des-Corps and Maillé.
After assessments of the extent of destruction, provisional solutions and reconstruction plans during the Occupation, the Liberation would pave the way for greater modernity whilst championing the defining principles of a monumental, Regionalist-Revival architecture. Thanks to their wide-ranging creative approaches, architects would seek to endow each town with a new identity.
€6.00
L'ONU, Françoise Passera, Édition Mémorial de Caen, 15 pages.
This factsheet goes back over the milestones in the UN's history. Richly illustrated by documents from the time, maps and drawings, it is designed to appeal to everyone and provide a starting point for a more in-depth study of the birth of the UN, its charter, the gruelling tests of war and peacekeeping operations … all events which shape our own history.
€2.00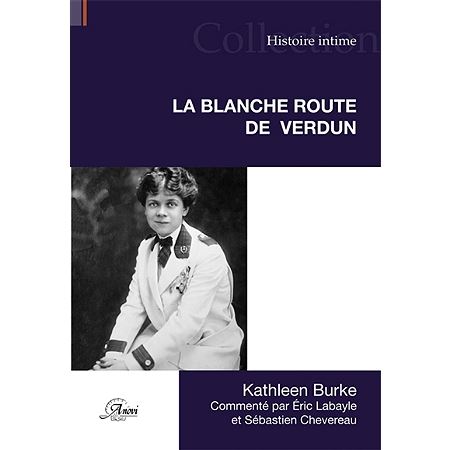 La Blanche Route de Verdun, Kathleen Burke, with commentaries by Eric Labayle and Sébastien Chevereau, Éditions Anovi, 2016, 125 pages.
Recently translated into French (original English title: The White Road to Verdun), this book tells the tale of Kathleen Burke, a young American nurse who came to Verdun in 1916 in the thick of the battle to testify and defend the cause of her hospital among the top French Army officers. She and her husband (the Hales) became financial benefactors of Maillé after the massacre.
€13.00
Alphonse Juin (1888-1967) – L'épopée du fils de gendarme, Jean-Paul Huet, éditions Anovi, 2005, 45 pages.
What an extraordinary destiny awaited Alphonse Juin! Son of a military police officer (gendarme), this North African Frenchman of admirable uprightness rose right through the ranks, one by one, of a military career to achieve the honorable title of Marshal of France in 1952. Throughout two World Wars right up until his death, he devoted his life's service to France's cause. This biography has been written for all ages, carefully painting the portrait of a remarkable, often unsung man who, his whole life, endeavored to ensure that his deeds mirrored his convictions.
€5.00
De Sétif à Marseille par Cassino, Jean Lapouge, éditions Anovi, 2007, 288 pages.
From his graduation from the Saint-Cyr academy in 1942, assignment to the Sétif 7th Algerian Tirailleurs Regiment (infantry unit of the French Army), baptism of fire in Tunisia then the Italy campaign alongside General Juin, right up until he landed in France in August 1944 and helped to liberate Marseille, Jean Lapouge put everything down in writing. His notebooks, kept day-to-day, tell us about what daily life was like for a head of an infantry platoon, and about his concerns, doubts and hopes. Brimming with insights, they are a reminder of the African army's participation in France's campaigns, which are frequently forgotten about today, but which gave France back its honor and a place at the winners' table in 1945. Sincere and deeply moving, these pages form one of the most remarkable testimonies ever written by a French soldier who fought in World War II.
€11.00
Lieux de mémoire, Izabel Tognarelli, Éditions Déclics, 2012, 156 pages.
This book encourages us to remember, through a tour of memorial sites in France from the French Revolution up until World War II. To speak of the barbarism, the trenches, the torture, the concentration camps and the string of monstrosities of which human beings are capable once engaged in a mindset of war. To pay tribute to those who sacrificed their lives for peace and freedom. The history of Maillé and the Maison du Souvenir also feature.
€29.90
Petites surprises de printemps, Marcel Jourdain, testimony with commentaries by Éric Labayle, Éditions Anovi, 2009, 175 pages.
In his later years, Marcel Jourdain committed to paper the memories of his youth, between April and August 1944, when his personal history became inextricably bound up with our common history. As if through a child's eyes, telling it like it was, without any harshness, he chronicles daily life in a village in Cotentin (on the Normandy coast) between the Occupation and the Liberation. The day-to-day of rural Norman folk on the eve of D-Day, having to live alongside the German Fallschirmjäger, the lost American parachutists, evacuation of civilians, the Battle of the Mont Castre hill, first encounters with the GIs and arrival of General Leclerc's 2nd armored division: the young hero experienced all of these events, and gives an accurate account of them.
€13.00
Sauvé d'Auschwitz par l'Assistance publique, Charles Waserscztajn, éditions du CERCIL, 2016, 184 pages.
For Charles Waserscztajn, everything began with an error during his registration with the State social services on December 6, 1940. Tauba his mother, a young Polish Jew who had arrived in France seeking refuge in 1938, was completely destitute. With no other solution, she "provisionally" handed her child over to the care of the State. The latter actually ended up entering "permanent care" – an error which would save the child from deportation. But also one which separated him from his mother for good. Tauba, pursuing any avenue she could of getting her child back, refused to leave Paris, at her own peril.
It was not until 2001 that Charles learned of his family history in the State social services record, and began his investigation – combining recall and remembrance with historical research – ultimately furnishing us with this autobiographical tale.
€18.00
Travelling sur les années noires, l'Occupation dans le cinéma français depuis 1945, Michel Jacquet, Éditions Mélibée, 2011, 176 pages.
Convinced of cinema's ability to reflect the changing currents of opinion, Michel Jacquet examines how French filmmaking has tackled the period of the Occupation. Travelling sur les années noires is a book on collective memory as well as a tribute to the cinema greats in France (including Bourvil, Ventura, Delon and Depardieu), whose faces have represented the different figures of Occupied France.
€14.00
Je m'appelle Isaac et j'ai été un enfant caché, Isaac Millman, Éditions du CERCIL, 2012, 80 pages.
Isaac Sztrymfman was 7 years old when Germany invaded France, the country where his parents, Polish Jews, had sought refuge. On May 14, 1941, his father Moïshé was arrested and imprisoned in Pithiviers camp for many months. On June 25, 1942, he was deported to Auschwitz, and assassinated. That same year, Isaac and his mother, Rivelé, were also arrested and imprisoned at Autun. His mother bribed a warden so that her son could be sent to a hospital where, thanks to the complicity of the physicians and nurses, Jewish children were declared sick. After this temporary refuge, Issac was hidden by various people, experiencing both cruelty and tenderness by turns. He had to conceal his identity and adopted the name Jean Devolder. At the end of the war, Isaac never found his parents. He was adopted in 1948 in the United States and became Isaac Millmann. In this book, co-written with the CERCIL, he describes the most poignant scenes of his story.
€14.00
Plaques et stèles commémoratives (1939-1945) en Indre-et-Loire, Ingo Fellrath and Francine Fellrath-Bacart, Éditions la Simarre, 2007, 2007, 159 pages.
€12.00